Best Halloween flower delivery service
Written by Andrea Pinto on July 27, 2021 
Decorating for Halloween can be exciting and fun, but we don't always have time for it. Pumpkin, witches, ghosts, spiderwebs, and skulls are commonly found in Halloween decorations, but flowers are also a great option. And even better — thanks to these recommendations, you can get them delivered right to your doorstep!
Let's find out what the best Halloween flower delivery service is, and which types of flowers are perfect to spruce up your themed decorations.
What are the best Halloween flowers?
Typically, we associate Halloween with certain colors, such as orange, black, green, dark red, purple, and even white (think ghosts!). Depending on your taste, you can go all out with different colors, or opt for a monochrome palette with subtle accents.
Truth be told, any flower that fits your desired color palette can be a good Halloween flower. It's all up to you, and as long as you combine your decoration elements correctly, your Halloween flowers will fit right in.
Let's talk about some of the most popular Halloween flower options by color palette:
Orange flowers
Orange is, quite probably, the default color for Halloween. In addition to fresh flowers, you can also find many types of orange foliage, which can also be used in decorations.
Popular orange flowers include:
Lillies
Roses
Carnations
Daisies
Gerberas
Begonias
Alstroemeria
Chrysanthemums
Marigolds
Tulips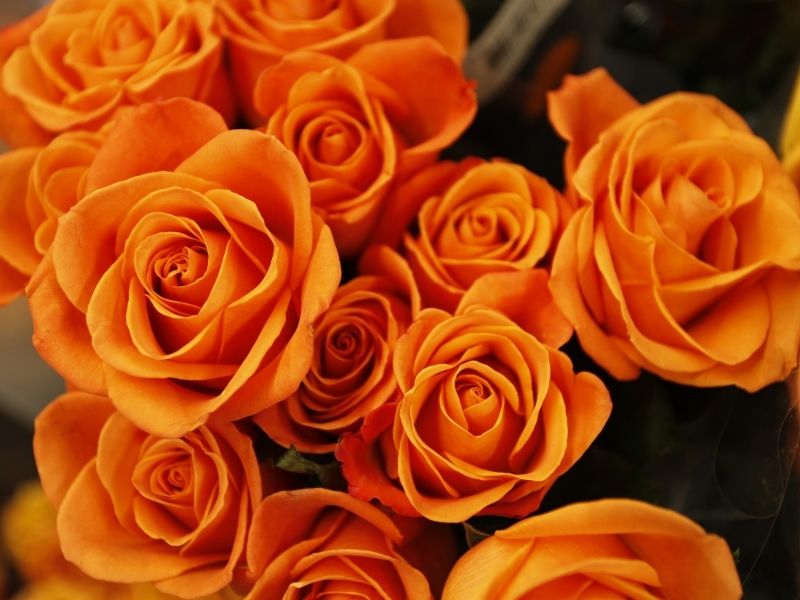 Purple flowers
Purple is another color that we typically associate with Halloween. Both light and dark purple flowers are beautiful, although dark purple is more appropriate for Halloween and fall. Common purple flowers include:
Lavender
Chrysanthemums
Verbena
Irises
Allium
Anemone
Indigo
Dark red flowers
Dark red is the color of blood, so it's no wonder that it's also a popular Halloween color. Popular dark red flowers include:
Roses
Carnations
Dahlias
Amaranthus
Gerberas
Lillies
White flowers
White flowers have long been associated with death, which makes them a great option for a spooky Halloween decoration theme. Additionally, white flowers are typically easy to find regardless of your location, which makes them very convenient. They will also look great combined with any other color you want to use.
Some of the most popular white flowers are:
Roses
Baby's breath
Tulips
Clematis
Snowdrops
Lillies
Petunias
Heliotropes
Halloween flower decoration ideas
Pumpkin vase
Pumpkins are practically synonymous with fall, and you can find them everywhere — from your drinks to your clothes  — during the Halloween season, so why not turn them into flower vases?
Simply carve out a pumpkin, removing its top and seeds to make a hollow cavity inside of it. You can add some water to make your flowers last longer — just be sure to change it out frequently, since the pumpkin flesh could get slimy or moldy. Alternatively, you could place a small jar inside the pumpkin, eliminating the need to pour water directly into it.
 A smaller pumpkin vase filled with flowers would also make a great centerpiece for Halloween, and even for Thanksgiving.
You can also purchase a pumpkin-shaped vase made of different materials, such as ceramic or acrylic. However, the good thing about using a real pumpkin is that it's a fully biodegradable, no-waste vase. You could even add it to your compost later!
Reusable vases, on the other hand, are durable and can be used year after year. They can also make adorable Halloween-themed gifts, if necessary.
Skull vase
Skulls are another typical Halloween decoration that can easily be turned into a creative flower vase. You can actually find many affordable skull vases online, which you can fill with your own Halloween flower arrangement or with a pre-arranged one. You could also group skull vases with flowers with other skull-themed decorations, such as lanterns or garlands, for a truly eerie setup.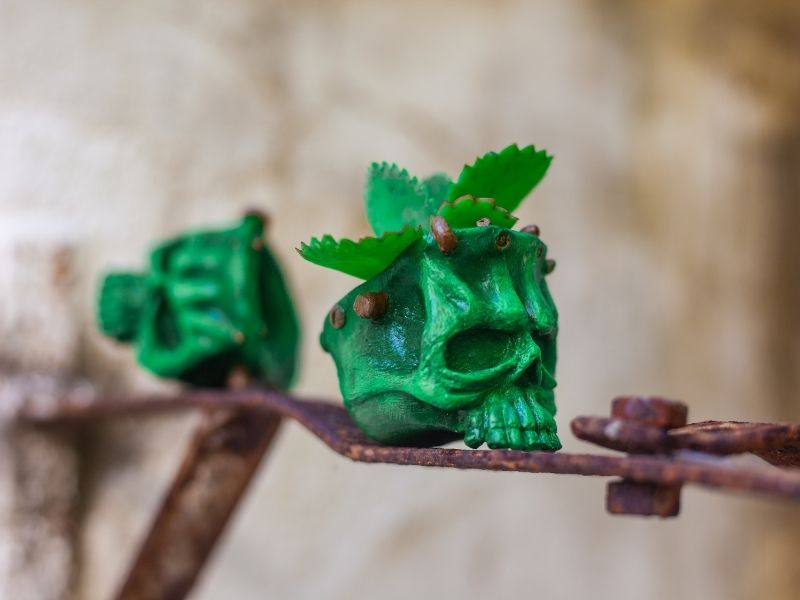 Dead flowers
Dead flowers aren't the most desirable decorative item 364 days of the year. But they could be perfect for Halloween! They fit the Gothic vibe of this holiday to a tee.
If you have aging blooms, you can take them out of the water . If you leave old flowers in a vase with water, the humidity will probably cause them to rot rather than dry out, which won't be good for your decorations.
You can even make your own "dead" or dry flowers by placing them on a baking tray lined with parchment, and baking them at 425°F-500°F for approximately 5 to 15 minutes. This could also be a great way to give a new "life" to the flower arrangements you ordered before Halloween.
Once your flowers are dry, you can have fun arranging them into different Halloween-themed vases and bouquets. Combined with some dry leaves and artificial spiderwebs, they'll make for a truly spooky spectacle.
Best Halloween flower delivery service
We have some great recommendations if you're planning to add some flowers to your Halloween decorations, or want to send out a Halloween-themed present. These websites offer top-quality flowers and plants, convenient delivery options, and other gift and decoration ideas.
Some of these providers even have a dedicated Halloween section, where you will be able to purchase flowers arranged inside ceramic Jack-o'-Lanterns and pumpkin vases, fall-themed bouquets, and even themed gift baskets.
Where should you order Halloween flowers?
In the above, we break down which providers are the best for each category so you can make your home spooky this hallows eve, or send your loved one a bouquet that is sure to excite and thrill. 
Keep Reading
Written by TopFlowerDelivery Team on June 05, 2023 During times of grief, words often fall short. Yet, it's during these times that a simple, thoughtful message can bring a glimmer...
03 June 2023
Written by TopFlowerDelivery Team on June 05, 2023 The tradition of sending flowers to a funeral is a meaningful way to pay tribute to the life of a loved one...
03 June 2023
Written by TopFlowerDelivery Team on June 05, 2023 In times of grief, one of the most touching ways to express your condolences and show support is by sending flowers to...
03 June 2023